Posing in Ernie and Theo Bandanas!
We were lucky enough to win an Instagram competition at Christmas time to win one of Ernie and Theo's 'Bee Happy' bandanas, we had a choice of red or blue so I opted for the blue. You can also check out Ernie and Theo's instagram account - @ernieandtheo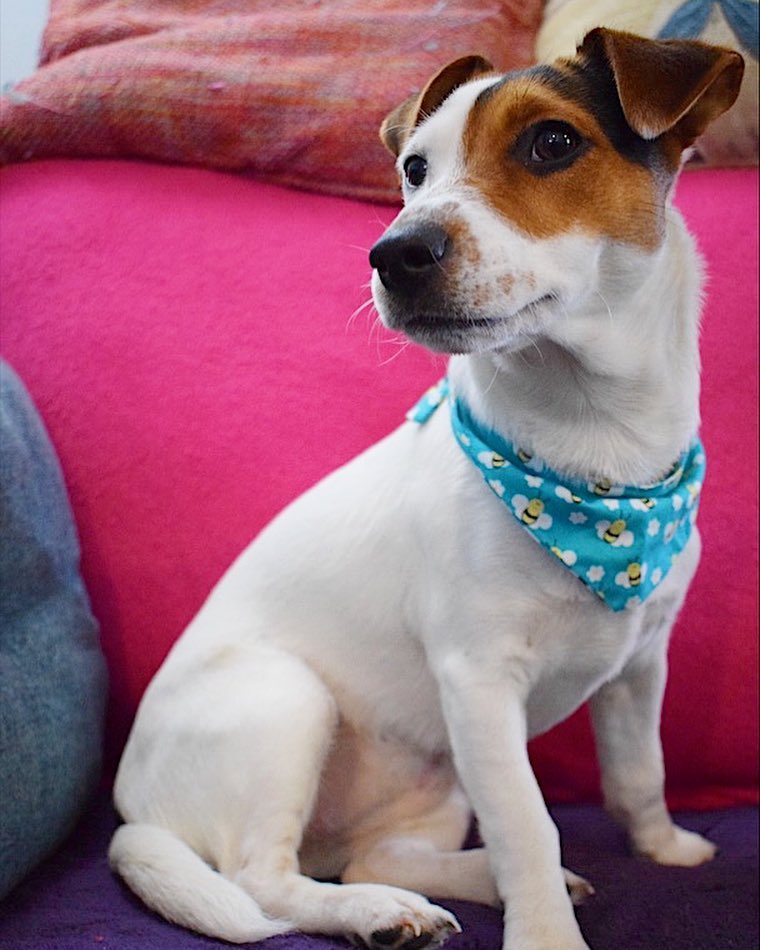 I like getting Bee stuff for Honey because her name is Honey, luckily there are quite a lot of pretty cool Bee related items which are available from a range of different companies. I try as much as possible to support small little companies on the likes of Etsy. I think the 'Bee Happy' bandana is probably my favourite on on the Ernie and Theo website anyway but if I had to pick Honey another one I would have probably opt for the Daisy Day bandana in green! It would be a perfect Springtime bandana! Also available in orange and pink.
I thought it was only because I won one for Honey to buy one for Hamilton too and because he gets called Ham, probably about 98% of the time I decided to go for the 'Happy Pig' bandana in black (also available in white). Maybe a bit of a morbid choice for a vegetarian? I do love how chunky and happy the pigs look in the fabric! If I had been buying another bandana for Ham I probably would have opted for the 'Denim Star' bandana, it looks nice and cool and simple and would look fab with Ham's colouring.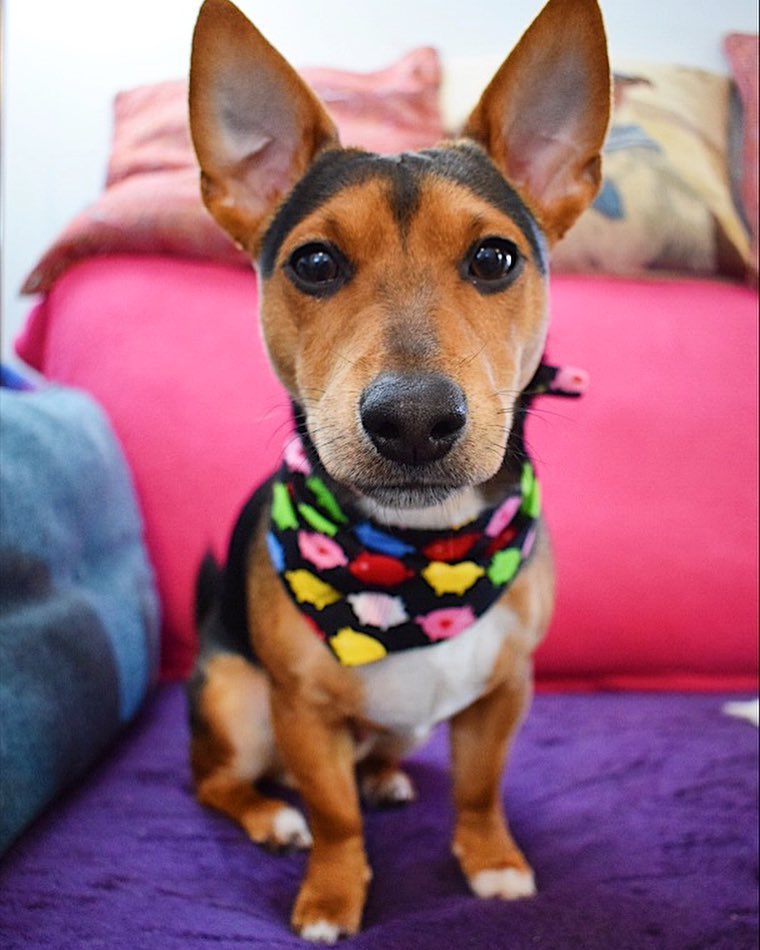 Both of the pups are wearing a size small tie on bandana, they could have maybe also got away with a medium. Ernie and Theo also offer a through collar bandana. Honey and Ham don't wear collars all the time in the house like some dogs so I prefer the tie on ones. I particularly like the way that the Ernie and Theo bandanas have been cut, the shape has a bit of a cheeky, scampish nature to them and I love the way they lie on their necks.
Ernie and Theo also stock other items. They have a selection of collars and leads, we tend to walk Honey and Ham in places where we don't normally require a lead, we also have the extending ones and they still have the teeny tiny puppy ones because they don't tend to pull. I do love the Ralph rainbow collars that they have to offer though, they are so adorable, they also have a special offer on collar and lead sets. I do wish there were more rainbow dog items available in the world! They also do a cute selection of treat jars and personalised plaques and signs to hang your dogs stuff on! Definitely drop by Ernie and Theo's website and check out their wares!